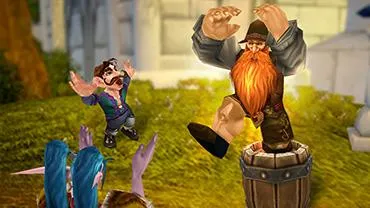 The paid faction conversion service is now open to players of the "Wrath of the Lich King" nostalgic server. Enjoy even more during this first-ever Faction Switching Bundle sale*.
Faction Switch Pack
From now until February 28th, you can enjoy a 30% discount if you buy one or three faction switching services and switch to another faction, which is equivalent to paying the price of six services to use eight services. The faction switching item will now allow players to use the faction switching service several times at the same time, or save some for later use. While switching camps, you can also switch races that match your profession for free, allowing you to integrate into new circles of friends and join them in adventures across Azeroth. The available faction conversion pack options are:
§$21.00 USD 1 time (regular price $30.00)
§$42.00 USD 3 times (regular price $60.00)
§$95.00 USD 6 times 8 times
For more information on the faction switching service and any limitations, please refer to the support article.
Ready to act? Head over to the Battle.net store, or log in to World of Warcraft and click the store button on the character select screen to purchase the Faction Switch Pack. A new icon will appear on the character select screen after purchasing a faction switch from the Battle.net store or the in-game store. To start the game service, click on the token and select the character you want to convert. Any unused Faction Switch Tokens will remain in your account for future use. *The offer can only be used in the "Wrath of the Lich King" nostalgic server, and the offer will end on February 28, 2023. After February 28th, the largest Faction Switch bundle will only contain 6 Faction Switches, and you can get 8 if you buy now.
**The "Wrath of the Lich King" nostalgic server faction switching service cannot be applied to characters who have used the faction switching service in the past 30 days.